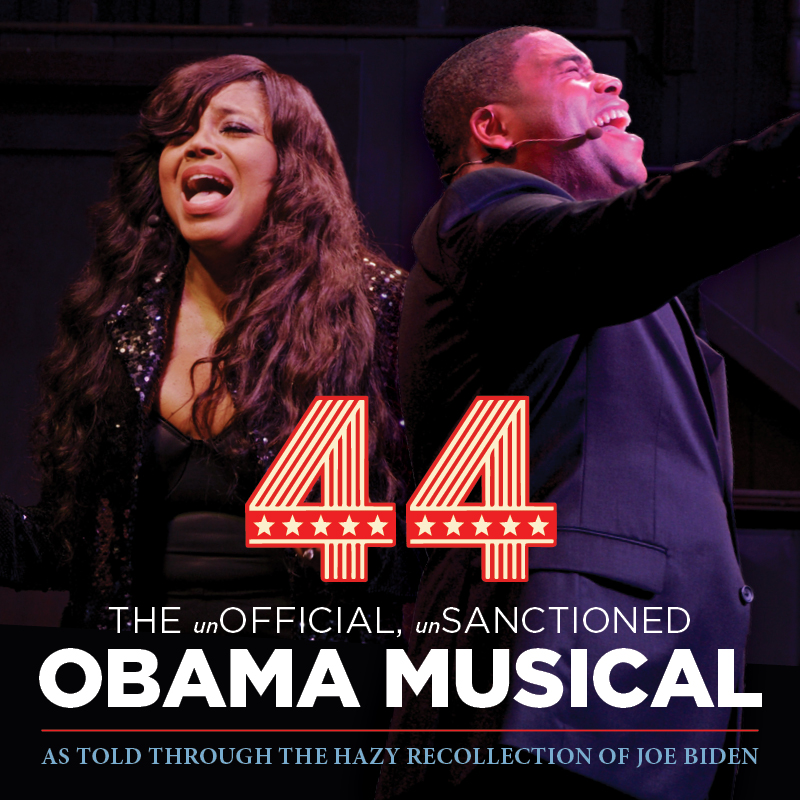 44- The Unofficial, Unsanctioned, Obama Musical
All Ages
All Ages
All Ages
All Ages
All Ages
All Ages
All Ages
All Ages
All Ages
All Ages
All Ages
All Ages
All Ages
All Ages
All Ages
All Ages
All Ages
All Ages
All Ages
All Ages
44 - The unOFFICIAL, unSANCTIONED OBAMA MUSICAL
Presented by Eli Bauman, Monica Saunders-Weinberg,
MB Artists and Michael Donovan
Book, Music, Lyrics and Direction by Eli Bauman
Featuring T.J. Wilkins as Barack Obama and Shanice as Michelle Obama


Barack Obama's election changed history. And as we can clearly see, it also ended racism forever! But 44 - The unOFFICIAL, unSANCTIONED OBAMA MUSICAL is the story of Obama you won't read about in history books...because history books are now banned in most states. But also because 44 is the story of Obama as Joe Biden kinda sorta remembers it...
Starring T.J. Wilkins (NBC's "The Voice) as Barack Obama, and Shanice ("I Love Your Smile," "Saving Forever for You," yes that Shanice) as Michelle Obama, 44 is a melting pot of music that delivers everything you'd come to expect from a Musical about the Obama Era - Sarah Palin scream-singing "Drill Me Baby" like Ozzy Osbourne, President Obama crooning "How Black Is Too Black?" over a smooth Motown groove, and of course, a 90's R&B Slow Jam where Mitch McConnell declares his unquenchable passion for his beloved musket.
The entire political world is buzzing about 44! Barack Obama exclaims, "Of all the musicals about my Presidency, this is one of them." Alex Jones raves, "The Radical Left Deep State White Woker Globalist Cabal has done it again!" And Bill Clinton moans, "I came. I saw. I came."
So if you enjoy good music, and love Freedom, do your patriotic duty and see 44 - The unOFFICIAL, unSANCTIONED OBAMA MUSICAL.
If not for yourself, for your country...

*There will be a 2 item minimum of F&B, either Food or Beverage*
---
---